Developed an audacious fusion of pop culture and independent art house cinema; his films are thrillers that are distinguished as much by their clever, twisting dialogue as their non-linear narrative and outbursts of extreme violence.
Quentin Tarantino IMDB page
What makes him infinitely more interesting than just another flash-in-the-pan filmmaker with a predictable Oedipal drive challenging the codes and conventions of the dominant, parent cinema is that he can't be categorized as either mainstream or independent.
His style and content, is a glorious and often unruly mix of classic Hollywood, Hong Kong action cinema, comic book and television.
Is a master of film "language".
Favorite movies list
Pulp Fiction (1994)
The lives of two mob hit men, a boxer, a gangster's wife, and a pair of diner bandits intertwine in four tales of violence and redemption.
http://en.wikipedia.org/wiki/Pulp_Fiction
Kill Bill (2003,2004) vol. 1, vol. 2
"Mauvais genre" cinema brought to the level of art; poetry of violence, poetry of motion in the language of film.
Formal perfection with (in vol. 2) substance/emotion.
http://en.wikipedia.org/wiki/Kill_Bill
Revenge is a dish best served cold (old Klingon proverb)


© imdb__
Wait for the creme. (col. Hans Landa to Shosanna).
A voluptuous hubristic uchronia, that feels more alive than history itself!!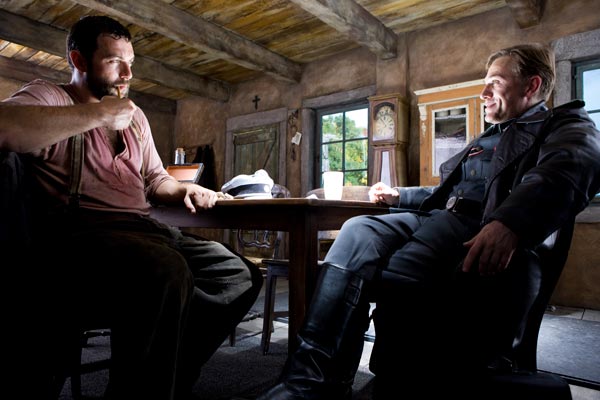 Death Proof (2007)
(part of 'Grindhouse' anthology film )
The woods are lovely, dark, and deep and I've got promises to keep and miles to go before I sleep. Did you hear that butterfly? Miles to go before you sleep.
- (1st sentence is from "Stopping by Woods on a Snowy Evening" by Robert Frost [American poet, 1874-1963], also refered in Telefon [Don Siegel, 1977] Cold War paranoia drama with Charles Bronson!)
All Tarantino's obsessions mashed together in one gem – film... Not just an anthology / remake / homage to the 70s B-movies, but a flamboyant creation, with a voluptuous and beautiful film language. Formal perfection; outre – but lovable and substantial – characters.
http://en.wikipedia.org/wiki/Grindhouse_film
(special guest director on Sin-City)